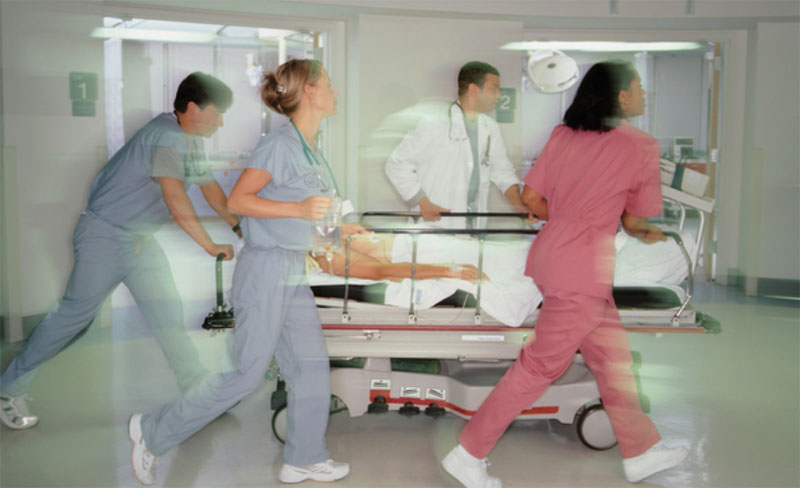 Emergency medicine deals with cases that require immediate attention and treatment. There is a difference between the acute patient and the patient requiring long-term care. If a patient's condition requires immediate attention he/she can directly apply to the ER. Some of the situations where a  patient's condition may be considered emergent include:
Undiagnosed diseases or diseases which have shown sudden and dramatic progression
Serious trauma requiring admission to the ER (e.g.: traffic accidents, domestic accidents, accidents in the workplace)
Situations arising as a result of neurological (e.g.: epileptic seizures, fainting episodes etc.)
or psychiatric disorders (especially if there is risk that the patient may harm him/herself or others)
Foreign body aspiration
Intraocular foreign body
Chest pain
Circulatory depression
Anaphylaxis (rapid and fulminant allergic response)
Fainting (even if it's for a very short period)
Fever over 39 degrees Celsius
Severe abdominal pain
Diarrhea or volume loss as result of excessive vomiting
Respiratory insufficiency/difficulty, shortness of breath
Drug toxicity
Food poisoning
Once the patient has been given immediate care at the ER, he/she will be further directed to the relevant specialties (if necessary).
In order to make sure truly urgent cases are treated quickly and efficiently, we request our patients not to apply to the ER unless their situation is truly emergent. Instead, we would advise the non-emergent patients  to apply to our out-patient clinics; these require appointments.
[vc_custom_heading text="DOCTORS" font_container="tag:h4|text_align:left" google_fonts="font_family:Open%20Sans%3A300%2C300italic%2Cregular%2Citalic%2C600%2C600italic%2C700%2C700italic%2C800%2C800italic|font_style:600%20bold%20regular%3A600%3Anormal"]
[vc_basic_grid post_type="post" max_items="10″ element_width="3″ gap="35″ item="3137″ grid_id="vc_gid:1579973913976-56fafa4c-529f-4″ taxonomies="54, 50″]